History

I moved from state to state growing up-but the few I considered home would be Florida, Maryland, and Texas. My favorite state by far though would be Washington. I live in the Southeast with my husband and two small demon/angels that are considered children. I also hate running. Horizontal running for everyone.

Who I Am

Things I looooove: Robin Hobb, Jk Rowling, Stephen King, Anne Rice, Brandon Sanderson, Cassandra Clare, Supernatural, Battlestar Galactica, Star Trek, Killjoys, Penny Dreadful, Psych, Steampunk, Scifi, Fantasy, Anything Victorian Gothic, Art Deco, Mermaids, and Fairies!
My favorite movies are Sunshine, Pride and Prejudice, Crimson Peak, 28 Days Later, and Pitch Perfect.

Education

After deciding I really couldn't draw worth a crap, I moved from Montevallo University (where I was studying Art and English), to University of Alabama at Birmingham, where I completed my Bachelor's in Communications Management with a minor in Mass Communications.
---
Powered by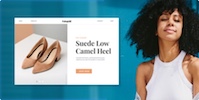 Create your own unique website with customizable templates.