Star Wars is coming out Friday and the new Star Trek movie ad just came out. I'm sad and happy. I'm excited that the new Star Wars looks really good and that Abrams is in charge of it (I loved Lost and Fringe). I'm sad that Star Trek looks like a Star Wars rip off at this point.
​Now, all of the good little media sheep will say "Get over it, it's a new thing, at least you got a movie." Star Trek has always been more cerebral and had a lot more to do with social commentary than Star Wars. Star Wars, like my husband likes to say, is a fairy tale for boys set in space. That is not what Star Trek is. It's hard to put a finger on what makes it so different, but it is, and it hurts to see it turned into an action franchise. Granted, the movie looks good, it's just not Star Trek. Lin has said he loved Star Trek growing up, which Abrams admitted he did not (he was camp Star Wars). Maybe the ads can be misleading but I'm not placing any bets on it.
Powered by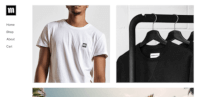 Create your own unique website with customizable templates.